The Periodic Table of Cryptocurrencies provides an overview of the crypto market and the blockchain projects operating in key industries.
It's getting more difficult by the day to keep up with the changes in the ever-evolving cryptocurrency market. Even for the lucky few of us who get to spend our days reading whitepapers and refreshing coinmarketcap.com, the sheer volume of information is overwhelming.
The first way we sought to address the problem was with long-form articles such as the Top 50 Cryptocurrencies and the Top 20 Ethereum Tokens. These articles help to introduce investors to new projects in a concise manner, as well as provide links to resources for further research.
However, we felt that the information could be distilled even further. And so, in an effort to create the most concise possible overview of the cryptocurrency market, we began work on a Periodic Table of Cryptocurrencies.
Do note that there wasn't a set criteria for deciding which cryptocurrencies would make the table, nor for determining the order in which they are included. The cryptocurrency market changes incredibly quickly, so we may update this table in the future to include new projects that have gained relevance and to take out any projects that have lost it.
For a more scientific take on a periodic table of cryptocurrencies, check out Dr Aleksandar Arsov's proposal on blockchain categoization. His paper puts forth the idea of a "theory of cryptocurrency periodic table policy in Altcoin markets with focus on supply rigidities identified with aggregate supply in cryptocurrency markets."
The Periodic Table of Cryptocurrencies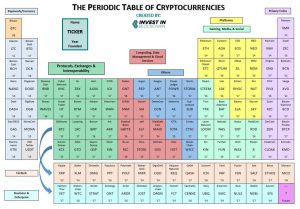 (Click here to download the table.)
Source/More: The Periodic Table of Cryptocurrencies – Invest In Blockchain